Continuing from the last post, this posting examines Part III of the Yanai Report, which is the heart of the argument on the actual interpretation of Art. 9. While the earlier posts were summaries combined with some select segments being translated almost in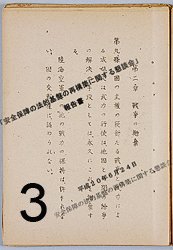 full, this posting is less a summary and more a full report on the substance of this part of the report. There is much to criticize here, but the analysis is left for the fourth and final posting on the report.
Part III, Section 1 – Opinions and Their Premises Regarding the 4 Scenarios: the panel returns to the question of constitutional interpretation, this time explaining "The Panel's Fundamental Understanding of Art. 9." In section one of this part, the panel outlines its opinion and its underlying assumptions with respect to the four problems. After rehashing the changes in threats already discussed above, it articulates the two assumptions that underlie its recommendations for the minimum necessary changes to the interpretation of the Constitution. These are i) that there must be continued maintenance of pacifism and international cooperation as fundamental principles of the Constitution; and ii) even where there is the exercise of collective self-defence or collective security operations under a new national security policy, it cannot be without limits. The panel indicates that the specific limitations will be discussed in Part IV.
Part III, Section 2 – The Interpretation of Art. 9: The panel turns next to its own interpretation of Art. 9. It again summarizes the government interpretation, then begins its discussion with the assertion that in interpreting laws and the Constitution, while it may be natural to interpret the text of each provision, it is also necessary to examine the entire context of the law in its entirety, the history of its formation, the country's national strategies, the society as a whole, the economy, and other related circumstances.