The Nagoya High Court handed down a judgment last week on Japan's involvement in Iraq. While dismissing the applicants' claims on the basis that they lacked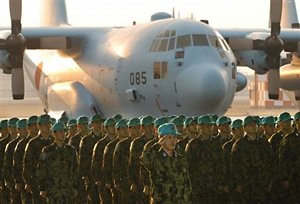 legal standing, the Court held that the Air Self-Defence Force (ASDF) operations in Iraq violated the limits in the authorizing legislation, and the prohibition on the use of force in Article 9(1) of the Constitution.
The judgment, and how the government is responding to it, raises profoundly important issues. The case was one of dozens that have been commenced by citizen groups in opposition to the deployment of the SDF in support of operations in Afghanistan and Iraq. This is the first decision that has held that the operations are unconstitutional, and it is the most important decision involving Art. 9 to be handed down by a court in over 25 years. Below I provide more of the background and the reasoning of the decision, but first, I address the main issues it raises.
The court dismissed the plaintiffs' claims both for damages in respect of their right to live in peace, and for the injunction against continued deployment of the ASDF. The plaintiffs were found not to have a direct legal interest that would be harmed by the ASDF operations. While finding that the deployment in Iraq was a violation of the prohibition on the use of force in Art. 9 of the Constitution, it held that the plaintiffs did not have standing to claim a remedy for that violation. It was, therefore, a win for the government in terms of the specific demands of plaintiffs. Yet it was a major set-back for the government in terms of its policy having been judged as being unconstitutional.
Representatives of the government, including the prime minister, have not only made statements to the effect that the judgment will not change any aspect of government policy, but are rejecting the validity of the decision. Chief Cabinet Secretary Machimura stated that "I cannot accept such a court ruling when the Japanese government has determined that [Baghdad airport] is a non-combat zone." The court found as a matter of both fact and law, on the basis of the evidence before it and its interpretation of the definition of "combat area" in the Iraq Special Measures Law, that Baghdad was a combat zone. … Read more…